April 29, 2022
Resume Objective – What, When, How
Ayesha Fernandes, JollyHires Inc.
There are times when you search "Jobs near me" and "Jobs hiring near me" a few jobs show up and while customizing your resume you wonder how you should format it and get baffled about Resume Objectives. Am I right?
Don't want to screw up getting a job because of bad resume objectives? Then continue reading this article and know the 4 W's and 1 H of Resume Objectives.
What Are Job Seeker Resume Objectives?
When should you use it?
How do you write one?
What is a video resume?
What is a 360 Degree Digital Resume?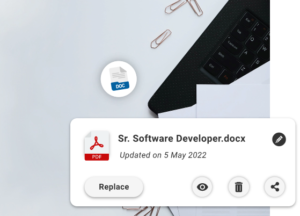 Let's begin with what are Job Seeker Resume Objectives. It is exactly that! A 2-3 liner objective to your entire resume, written at the top of a resume that conveys to the interviewer what you aim for and what you can bring to the table. These resume objectives make the Job Screening process for the recruiters, much easier. Although these objectives are now replaced by Executive Summaries, and resumes are now replaced by Video Screenings, there are times when an objective would work better for your resume. When, you ask? At two times. When you are starting out in the professional world or you have little to no experience in a new job.
For the rest, you might want to consider adding an executive summary.
Having what and when straightened out, I'll let you know that the HOW aspect is a bit more complicated. You don't get it right; you screw it up bad. Continue below and see what points you should and should not keep in mind while writing up an objective for yourself.
CUSTOMIZATION: Who doesn't like a little customization? No one!! (No offense to those who don't like customization, but you're boring like a bowl of plain boiled chicken. No offense to boiled chicken too!) Yes, as I was saying a little customization, has a lot of impacts. You and I both won't be impressed if someone said, "I am a data scientist looking for data scientist positions" Bland is just like boiled chicken, no? Add in skills, qualifications, and abilities you have and know the recruiter needs. More focus on checking out all the requirements of what the company needs. After all, it is customized according to the company's needs, remember?
FACTS AND FIGURES: Now that we've added a little bit of taste to the chicken, let's add some spice, shall we? Your objective by stating a good resume objective is to show them what you got. Including facts and figures in your objectives does just that by bringing to the objective a sense of reality by helping the recruiter analyze you better through data visualization. So next time you get "free job alerts" and are customizing your resume according to it… remember to add a few facts and figures and power pack it with action verbs! Oh and please, do not brag.
NO EXPERIENCE TO INCLUDE FACTS AND FIGURES? No problem, I have taken it upon myself to make your chicken bowl tasty. If you have no facts to add (usually when you're starting out) you can still add spice by making sure your skills connect with that of the open position. This means if you're starting with a job completely unlinked to that of your dream job, don't go on about the ambitions you have for your dream job. They simply don't care.
SOUND SMART: Remember, I said Sound Smart and not Over Smart. Recruiters don't have a lot of time as they have to go through tons of Resumes and if they see an objective they'd have to pause to understand, they'll simply throw it in the bin! Use simple language, which gives enough clarity during the first read itself! Another great option for this is creating a video resume. If a platform is specifically providing a video resume maker you can browse through endless video resume apps present in the app store.
GENERALIZATION? A BIG NO-NO: How will you stand out if all you do is add normal spices to your chicken bowl. Oh sorry, got a bit side-tracked. But you get my point, don't you? Generalizing your objective will not make your recruiter stare at your resume objective in awe rather indifferently! It also gives the impression of you sending out resumes to many positions at once. One really doesn't want that!
BONUS POINT: Being scarce of time, recruiters usually go ahead with Video calls, Video Screening or Video Interviews as it is (comparatively) much easier to function and gives so much more than the traditional resume! Video calls are very time efficient; Video Screenings are very convenient and Video Interviews are a revolutionary change in the Job Screening process. Resume Objectives are quite outdated and it only works in your favor IF you use them absolutely correctly!
That being said, below is a good example of a Resume Objective. Precise, concise, customized, and to the point!
"Recent graduate with a B.A. in Literature looking to start their career in content writing and creation with an internship at JollyHires Inc. Having experience in proof-reading, blog writing, and campaign creation working under several college projects, seeking to further up my skills under the mentorship of JollyHires Inc."
So here we conclude that adding a resume objective or not is totally up to one's choice, but if you do choose to add one make sure to keep the Dos in mind and prevent your resume from being in the trash can. If used correctly, these objectives can definitely help you bag any and all Jobs in India. Also, if you want to sprinkle your shine and catch the attention of the recruiter, then take the Video Resume route through the JollyHires App and add your 30 secs video intro that can score some brownie points from the Recruiter for creativity, your confidence, and for sashaying You! In this competitive world, the key is to build a 360-degree profile and showcase all the abilities that make you stand out to a Hiring Manager. And figure out ways that will reduce an HR's time to assess you. You can do all that and much more through the JollyHires app. Don't wait up and let others get ahead of you. Build Your job profile today.